Rolls-Royce chief executive Warren East is to step down from his post at the end of this year, and the engine manufacturer is set to commence a search for his successor.
East, who was appointed to the top post in 2015, has led the company through a difficult period, dealing with the aftermath of a fraud inquiry, major technical issues on its Trent 1000 engine programme, and an overhaul of its aerospace business forced by the impact of the pandemic.
The manufacturer has also had to lay foundations to address environmental concerns and the need for radical changes in propulsion concepts.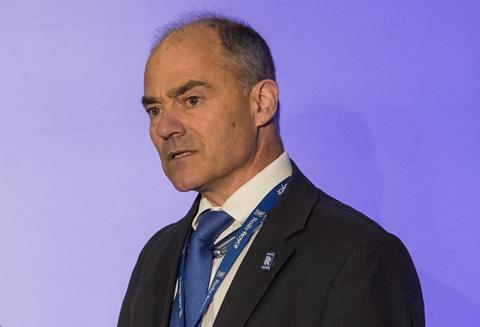 "There have been challenges, but we have built on the cultural and organisational improvements we have made to work through them, deliver on our commitments and create a better business," insists East.
"We have simplified the group, fundamentally improved our underlying operations and driven long-term change. Rolls-Royce is a dramatically different business today."
East says that, as a result, he believes this is "the right moment to look to the future", with a change of leadership, although he stresses that he is "thoroughly committed" to leading the company during the transition.
Rolls-Royce chair Anita Frew describes East as an "exceptional leader" who has "set a pioneering vision and strategic direction" for the company.
"He has shown incredible tenacity, steering the group through unprecedented times, and driven substantial cultural change throughout the organisation," she adds.
"We are now running an open and transparent process to find his successor and ensure a smooth transition."