Russian civil aviation regulators have approved the switch to a domestically-produced composite wing and engine on the Irkut MC-21.
Irkut has developed the -310 variant of the MC-21 which is powered by the Aviadvigatel PD-14 engine, while Russian industry is also supplying composite wing components to replace foreign-built equivalents on the twinjet.
The changes have been authorised by the federal air transport regulator Rosaviatsia, according to state technology corporation Rostec.
Rostec says documentation confirming the amendments were handed over on 29 December.
The PD-14-powered version of the MC-21 has been undergoing a test campaign and more than 160 flights with the aircraft were carried out last year.
Rostec claims the PD-14 has demonstrated an ability to match characteristics of foreign counterparts.
The MC-21 was originally designed with Pratt & Whitney PW1400G engines, with the PD-14 subsequently included as an option. But international sanctions have forced Irkut to focus on developing the Russian-powered variant.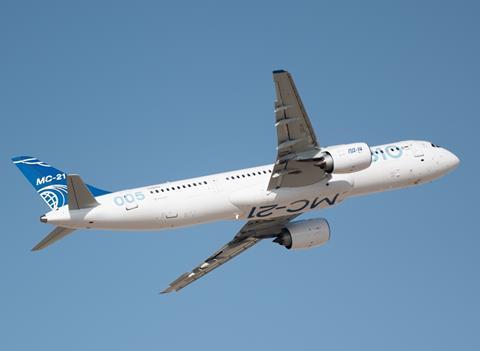 Rostec says the domestically-built composite wing has passed a series of tests at the Central Aerohydrodynamic Institute to confirm its structural strength.
Rosaviatsia head Alexander Neradko says the aircraft has shown "excellent technical characteristics", and that the approval is an achievement for the import-substitution strategy of the domestic aerospace industry.
The approval secures a platform for further component substitution, says United Aircraft director general Yuri Slyusar, which will enable certification of a "completely Russian" aircraft by the end of 2024.
This will clear Irkut to begin serial production of the twinjet.
"We are concentrating significant resources on the MC-21 programme, because the new airliner will become the flagship of the Russian fleet for decades to come," says Rostec chief Sergei Chemezov.
Chemezov says Irkut intends to deliver more than 270 MC-21s by the end of the decade.
"Tests have confirmed the reliability and high quality of both the PD-14 engine and the composite wing made of domestic materials," he says.
"This is another confirmation that, even under difficult sanctions conditions, our aviation industry is able to solve the most important tasks."