Russian operator S7 Group's engineering division is setting up a new overhaul facility for CFM International CFM56 powerplants as well as Honeywell auxiliary power units.
The new S7 Technics maintenance facility will be located at Moscow Sheremetyevo airport and start operating – initially with APU repairs – in the first quarter of next year, before the CFM56 activities commence in mid-2022.
CFM56 engines are fitted to Boeing 737s and Airbus A320s, with Aeroflot, Rossiya, S7 and Ural Airlines among Russian carriers using the powerplant.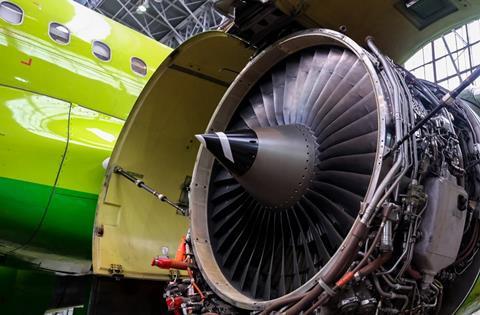 S7 Technics says it will be able to conduct complete disassembly, inspection, repair, replacement and cleaning of components.
"The new S7 Technics site will enable both S7 Airlines and other carriers to overhaul engines in Russia, rather than send them abroad," it adds.
"This will reduce the time and financial costs to airlines."
S7 Technics director of powerplant repair Alexei Starkov says the facility will be able to handle up to 42 engines and 100 APUs annually.
Procurement of the production lines and much of the equipment has already been undertaken. The centre will operate in accordance with US and European certification standards.
As part of the development, Rostec's United Engine division is to conduct bench-testing of the engines repaired by S7 Technics.
"Previously engines had to be transported to Switzerland or Germany," says Rostec, which states that the agreement will shorten servicing time.
"Traditionally we have handled Russian-built powerplants. We are expanding and planning to test CFM56 engines," says United Engine acting business development director Mikhail Novikov.
Novikov says around 800 CFM56s are fitted to aircraft operated by Russian carriers. The testing will be carried out at United Engine's Saturn arm which already handles engines including the Russian-French PowerJet SaM146 for the Sukhoi Superjet 100.