SIA Engineering sank back to the red in its third-quarter earnings, as a rise in costs — caused by a drop in government wage support — outpaced revenue recovery.
For the three months to 31 December 2021, the MRO unit of Singapore Airlines reported an operating loss of S$7.8 million ($5.8 million), reversing the S$1.1 million profit it made in 2020.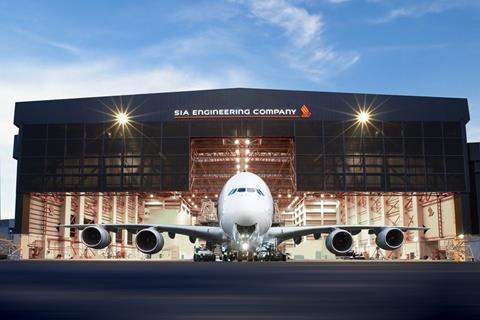 Revenue for the quarter rose nearly 34% year on year to S$140 million, amid a 65% increase in flights handled in SIAEC's Singapore base.
The "continuing recovery trend" — led by gradual reopening of international borders — is "encouraging", notes SIAEC.
Its base maintenance division saw an increase in checks compared to the same quarter in 2020, "but the work content of these checks was lighter as a higher proportion of the checks performed were for young new-generation aircraft".
The company also notes that business activity at its engine joint ventures in the region have also picked up.
However, any upswing in revenue was offset by a sharper rise in expenses: at about 43% year on year to S$148 million. SIAEC attributes the cost increase to a reduction in wage support measures.
Despite making an operating loss, SIAEC posted a net profit of S$33 million, compared to the S$7.7 million net profit it made in 2020.
The MRO provider maintains caution in its outlook, noting that recent spikes in infections — caused by the more contagious Omicron variant of the coronavirus — "has disrupted international air travels which have been gradually building up".
"Performance outlook depends on the extent of revenue recovery outpacing costs and the tapering of government wage support," SIAEC adds.
To this end, the company is focused on "initiatives to strengthen our core competency" and "actively pursuing" expansion opportunities both in maintenance capabilities, as well as geographical reach.