SIA Engineering (SIAEC) has signed a long-term agreement with Safran to provide test services for the CFM Leap engines, expanding the two parties' current maintenance partnership.
The 10-year contract covers the Leap-1A and -1B engines, which power Airbus' A320neo family aircraft and Boeing's 737 Max respectively. Safran is a joint venture in CFM alongside GE Aviation.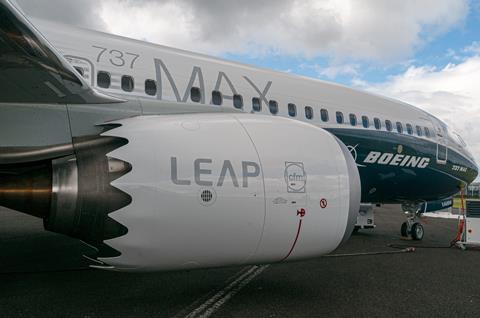 As part of the agreement, SIAEC will also upgrade its engine test facilities with data acquisition and control systems from Safran Test Cells.
SIAEC chief Ng Chin Hwee says: "The addition of the engine test capabilities for CFM Leap-1A and -1B engines is a step forward in the growth of our engine MRO services under our Engine Services Division [ESD], which was established earlier this year. Through ESD, SIAEC is well-poised to increase value to our OEM partners and airline customers, as well as enhance our integration across the engine MRO value chain."
SIAEC currently provides engine maintenance services — including quick-turn and boroscope inspection services — for the Leap family engines.
Separately, the MRO unit of Singapore Airlines has signed a long-term distribution agreement with Italian cabin interiors company Iacobucci HF Aerospace.
Under the agreement, SIAEC will be granted rights to distribute and sell spare parts required for aftermarket activities for Iacobucci's galley insert products.
These cabin products can be found in the premium cabins of aircraft such as A320neos, A350s, as well as Boeing 787s and 737 Max aircraft, says SIAEC.