SIA Engineering fell into the red for its full-year financial results, saying that the aerospace industry's path to recovery is "still fraught with risks", including the emergence of new coronavirus strains and a resurgence in virus cases.
The MRO unit of flag carrier Singapore Airlines reported an operating loss of S$25 million ($18.7 million) for the year ended 31 March, on the back of a collapse in maintenance activities.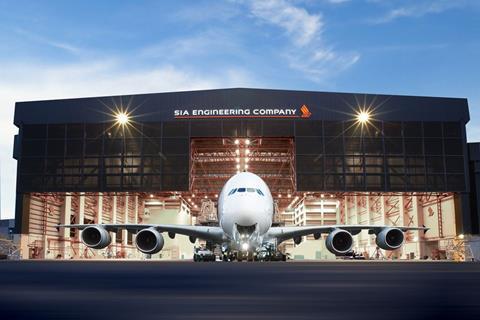 SIAEC discloses that its line maintenance unit in Singapore handled just 18.5% of the flights it did in the previous financial year. Singapore's borders remain largely shut to international travel, and the city-state has no domestic air travel market.
SIAEC adds that it was a similar situation at its base maintenance unit: "[Fewer] aircraft maintenance checks were performed, as low flight activities and the grounding of aircraft by airlines resulted in the extension of maintenance intervals and hence lower base maintenance activities."
Consequently, full-year revenue plunged 55% to S$443 million, while expenses fell by half to S$468 million.
The MRO reported a net loss of S$11.2 million, reversing the S$194 million net profit in the previous financial year.
Still, SIAEC notes that there is a "gradual recovery" in flight activities in the second half of the financial year, which has gone some way in boosting its revenues.
It also netted new customers in the period, including low-cost carrier HK Express for line maintenance, as well as start-up Vietravel Airlines for fleet management services.
The MRO was in the black for the six months ended 31 March, reporting an operating profit of S$2.2 million. It also handled more flights for the period than the first half of the financial year.
SIAEC adds that government support — in the form of wage support schemes — have also helped cushion the impact from the pandemic.
However, with wage support gradually being reduced this year, the company notes that "cost management remains a high priority".
"We have maintained measures taken earlier to mitigate manpower surpluses and manage operating cost, and will continue to be prudent with capital expenditure, without losing focus on opportunities to invest in capability and capacity expansion to lay the foundation for future recovery and growth," SIAEC discloses.
While vaccines and talk of reopening borders are causes for optimism, SIAEC says the operating environment will remain challenging.
"Amid the uncertainties and challenging operating environment, we will continue in our pursuit to emerge stronger through investment in new capabilities, technologies and services to expand our market reach. We will also accelerate the pace of our digitalisation, automation and adoption of lean frameworks under our ongoing Transformation programme," the MRO adds.