SIA Engineering (SIAEC) fell deeper in the red in its third-quarter earnings on the back of a sharp increase in manpower expenses, and despite a recovery in flight activities.
The MRO unit of Singapore Airlines reported an operating loss of S$12.5 million ($9.3 million) for the three months to 31 December 2022, a steeper loss compared to the year-ago period, where it posted a S$7.8 million loss.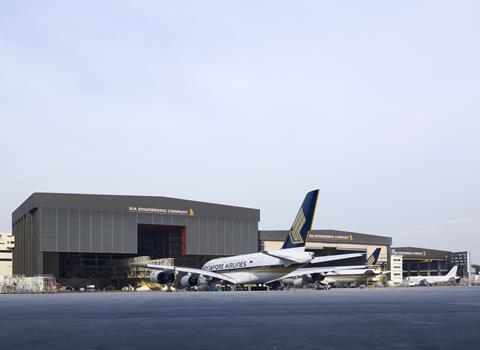 SIAEC saw revenues increase 48.6% year on year to S$208 million, as flight activities continued to recover with key markets reopening. The company's line maintenance unit handled about 71% pre-pandemic volume, and was more than double year on year.
"For base maintenance, the work content of aircraft checks was heavier and more checks were completed during the quarter. Inductions at engine and component shops have also trended higher," states SIAEC.
Still, the revenue increase was outpaced by a 49% jump in expenses to S$221 million. SIAEC attributes the uptick to the absence of government wage support, noting that the October-December quarter was the first quarter without any wage support since the start of the Covid-19 pandemic.
"Manpower costs increased largely due to increase in headcount, cessation of manpower cost mitigation measures and increments," says SIAEC.
The company posted a net profit of S$12.8 million, down 61% year on year.
In its outlook, SIAEC says the reopening of China's borders is a "positive development for a faster and full recovery" of the sector.
"However, challenges remain in the recovery path with risk of global recession, inflationary pressures, supply-chain disruptions and geopolitical uncertainties," adds SIAEC.