Employees at aerostructures and engine parts supplier GKN Aerospace are bracing for "a significant reduction in the worldwide workforce" as part of coronavirus-related cost-saving measures initiated by owner Melrose Industries.
In a half-year trading update issued on 3 September, Melrose argues that the job cuts and cost-reduction efforts are necessary "to enable an improved performance in 2021 without reliance on sales returning".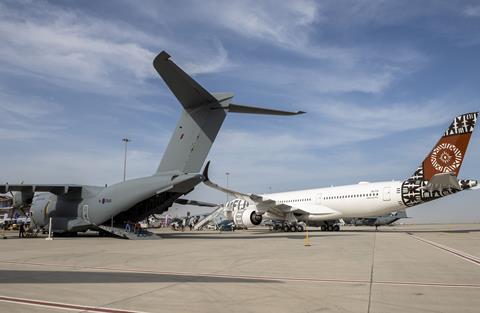 Consultations with staff and unions are already under way, it says, with the process due to play out in the second-half.
While its defence aerospace business remained robust, the civil operation – which includes the manufacture of wing structures for the Airbus A350 in the UK – has been hard hit by the Covid-19 crisis.
Half-year sales at GKN Aerospace fell 18% year on year, to £1.57 billion ($2 billion); sales are expected to drop 25-30% for the full year, says Melrose. Aerospace revenues in 2019 stood at £3.85 billion.
"While operating margins remained in line with targets until mid-March 2020, [the] civil airframe and engines [unit] experienced a sharp decline for the rest of the period prompted by Covid-19 travel restrictions."
Melrose anticipates the current trend persisting in the second half for the civil business, but says this is "expected to be partially offset by a comparatively strong defence sector"; military work represents about one-third of the aerospace business, it notes.
"Whilst the next 12-18 months in particular are likely to be challenging, there is much that can be done to improve this world leading business further," it says.
Melrose wrote down the value of assets by £173 million during the six months to end-June, with the majority, £133 million, coming from the aerospace business.
That contributed to a non-adjusted operating loss of £225 million in the aerospace unit. On an adjusted basis, the division recorded a £54 million operating profit.
Melrose – which bills itself as a business turnaround specialist – acquired GKN in 2018.