Skyports has signed a memorandum of understanding with Singapore port operator Jurong Port to explore infrastructure for ship-to-shore drone delivery operations.
The agreement will see both parties commence joint studies on the feasibility and development of plans for cargo drone delivery operations.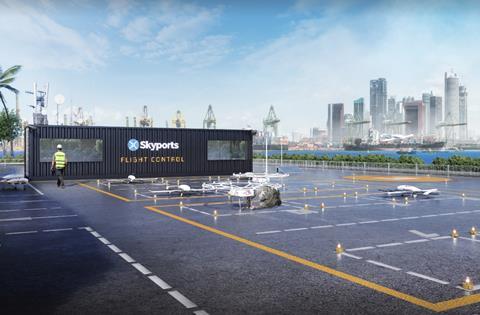 These trials will be undertaken alongside ongoing port operations, says Skyports.
"At the same time, Skyports will lead in the engagements with relevant public sector organisations, regulators, and private entities to further the development of critical regulatory frameworks for the deployment of large-scale cargo drone delivery services," it adds.
The agreement is the latest ship-to-shore operation that Skyports has been working on in Singapore. In February, the company partnered ST Engineering and Japan's Sumitomo Corporation to embark on a nine-month shore-to-ship delivery trial.
In its latest partnership with Jurong Port, Skyports says: "The MoU is a significant milestone for the development of large-scale drone delivery operations in Singapore, and expands on Skyports' ongoing work in the country's bustling maritime sector."
The company's head of Asia-Pacific Yun-Yuan Tay adds: "Tremendous progress has been made in the arena of maritime drone delivery services over the past year, and infrastructure development is the next critical step to truly realising the vast opportunities afforded by large-scale drone delivery services."
Apart from maritime drone services, Skyports is also working with Singapore's JTC - developer of the Seletar Aerospace Park - to explore the creation of the required infrastructure for air taxis, including terminals, airside facilities and hangarage, as well as facilities to support research and development (R&D) and pilot training.