Spirit AeroSystems is furloughing workers in Wichita, Kansas and in Oklahoma for 21 days, a move building on its other recent staff reductions.
The furloughs affect Spirit employees who work on Boeing programmes and reflect the airframer's indefinite suspension of operations due to coronavirus, the Wichita-headquartered aerostructures company said on 8 April.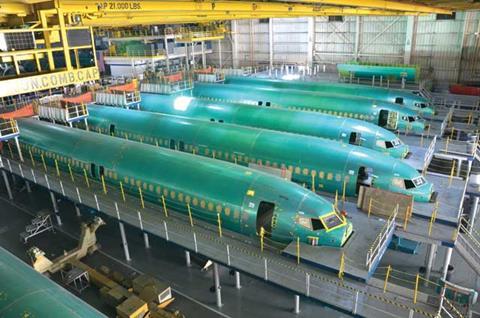 Spirit does not say when the furloughs will begin, or specify the number of affected employees; it did not respond immediately to requests for more information.
Prior to recent months, Spirit employed about 18,000 workers globally and some 13,000 in Wichita.
Additionally, Spirit says it has cut the salaries of US executives by 20% and put salaried staff in Wichita on four-day work weeks.
The latest workforce reductions by Spirit follow Boeing's 5 April announcement that it would shut Seattle-area facilities indefinitely due to coronavirus.
Spirit in January said it was laying off 2,800 staff in response to Boeing's suspension of 737 Max production. That suspension was due to the extended duration of the type's grounding.
The coronavirus pandemic then led Boeing in recent weeks to shutter a broad swath of its operations, including commercial aircraft facilities in Washington state and South Carolina and a military helicopter plant in Philadelphia.
Spirit makes 737 Max fuselages among other aerostructures. In 2019, the 737 programme accounted for 53% of the firm's revenue, according to its 2019 financial report.
Updated on 8 April: Spirit confirms the furloughs start on 8 April and the four-day work weeks start on 10 April.