Spirit AeroSystems' units in Northern Ireland and Scotland have tentatively agreed to collaborate with Skyworks Aeronautics on the design of the latter's proposed VertiJet vertical take-off and landing (VTOL) gyroplane.
Disclosed on 28 March, the agreement, covered by a memorandum of understanding (MoU), supports development of Skyworks' defence and commercial platforms in the UK and European markets.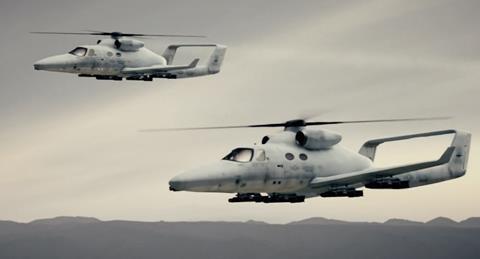 Under the MoU, Spirit will provide engineering and design support for the VertiJet platform, which Skyworks says will have a range of 1,000nm (1,850km) and the ability to fly at speeds of up to 350kt (644km/h). The proposed aircraft features both a rotor and fixed wings for lift as well as two turbofan engines for forward propulsion.
"We will be applying our engineering and technology leadership in advanced materials and ultra-light structures to explore the design, testing and integration of lightweight and aerodynamically efficient technologies in support of Skyworks' aircraft platforms, such as its VertJet VTOL programme for military and commercial use," says Michael Ryan, vice-president for European space and defence at Spirit.
Skyworks chief executive John Michel adds that he "cannot think of a better industry partner to help make the promise and potential of the VertiJet and other Skyworks-related platforms a tangible reality".