Russia's United Aircraft has delivered a prototype fuselage for the Irkut 'SSJ-New', the updated version of the Superjet 100, to test facilities in Moscow.
The SSJ-New revises the baseline aircraft design to feature a greater proportion of Russian-built components, as well as to incorporate evolutionary changes developed from Superjet operational experience.
It will be powered by the Aviadvigatel PD-8 engine as an alternative to the Franco-Russian PowerJet SaM146.
The SSJ-New fuselage – the second so far built – has been transported by an Antonov An-124 from the Komsomolsk-on-Amur production line in eastern Russia to the Gromov flight-research institute at Zhukovsky near Moscow.
Irkut general director Andrei Boginsky says the move marks the first time the new aircraft structure has left the facility of its manufacturing company.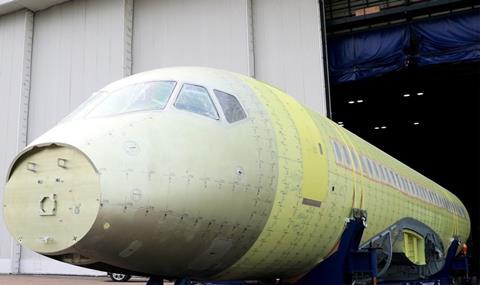 It will shortly be moved to the Central Aerohydrodynamic Institute where the aircraft will be mated with its wing, vertical fin and horizontal stabiliser, in order to undergo life-cycle testing.
These tests involve exposing the airframe and landing-gear to cyclic loading, simulating the effects of 54,000h of flight.
"It is planned to obtain data on the airframe's fatigue strength and operational survivability, as well as to confirm the design's compliance with requirements of aviation standards," says United Aircraft.
The first SSJ-New fuselage remains on the final assembly line and is being fitted with the substituted systems and equipment intended to reduce Russian dependency on foreign-built parts.
Boginsky says the initial SSJ-New will carry out its maiden flight next year, commencing a certification programme which will lead to serial production.