Three companies have successfully bid for assets of Virgin Orbit, with aerospace firm Stratolaunch picking up the modified Boeing 747-400 which was used to carry air-dropped satellite launch vehicles.
Virgin Orbit entered US bankruptcy protection earlier this year, weeks after the 747's first attempt to launch satellites from the UK ended in failure when the rocket suffered a thrust malfunction.
Over 30 expressions of interest were submitted for Virgin Orbit, but court filings show that three entities have been declared successful having offered to purchase various assets.
Stratolaunch already operates the large and unique twin-fuselage Scaled Composites 351, originally developed for air-drop and orbital launches.
The court filing shows it submitted a $17 million bid for the General Electric CF6-powered 747 and related items.
It states that the aircraft is due for a C2 heavy maintenance check in early August, its landing-gear is on a two-year extension which expires in July, and a number of minor system faults need repairing.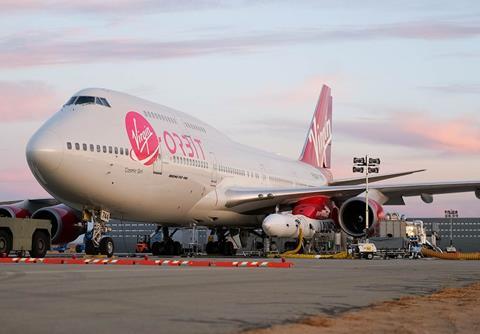 The filing also points out that the aircraft's documentation is "no longer continuous" as of the completion of its flights to and from the UK's Spaceport Cornwall during the failed January launch mission – but the jet remains in the same configuration.
"At the closing, [the] seller will deliver a logbook that is up-to-date for all operations as of the delivery date of the aircraft," it adds.
According to the court filings, an entity called Launcher bid $2.7 million for facilities and machinery located at the Mojave space centre in California.
The third bidder, Rocket Lab USA, put forward a bid of just over $16.1 million for Virgin Orbit's headquarters and manufacturing complex in Long Beach.
While it confirms the bid does not include the 747, or launch vehicles, Rocket Lab says the assets are "expected to advance" the production of its own launch vehicle, known as Neutron.
"Rocket Lab will not be integrating Virgin Orbit's launch system within its existing launch services," it adds.
"With Neutron's design and development well-advanced, this transaction represents a capital expenditure savings opportunity to augment our production capability to bring Neutron to the launch pad quickly to serve our customers and their future success."