Slovenian electric aircraft pioneer Pipistrel is to be acquired by US conglomerate Textron, parent company of Beechcraft, Bell and Cessna.
No details of the purchase price have been revealed, although, subject to regulatory approvals, the transaction is due to close in the second quarter, says Textron.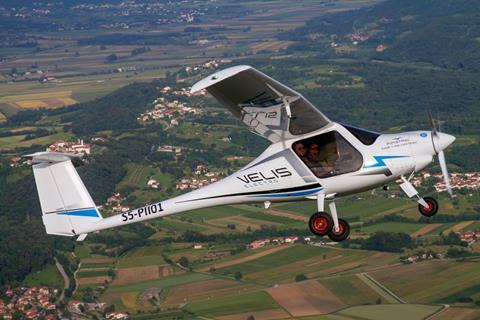 On completion, the company will form a new division, Textron eAviation, which will be "focused on the development of sustainable aircraft" and will include Pipistrel.
Textron says the acquisition will mean Pipistrel has "access to greater resources, technical and regulatory expertise and a global aircraft sales and support network, enabling it to accelerate its development and certification of electric and hybrid electric aircraft."
"Pipistrel puts Textron in a uniquely strong position to develop technologies for the sustainable aviation market and develop a variety of new aircraft to meet a wide range of customer missions," says Textron chief executive Scott Donnelly.
"Today's announcement supports Textron's long-term strategy to offer a family of sustainable aircraft for urban air mobility, general aviation, cargo and special mission roles."
Textron will maintain Pipistrel's head office, R&D and manufacturing facilities in Slovenia and across the border in northern Italy.
Pipistrel founder and chief executive Ivo Boscarol will remain a minority shareholder in the business and will be a consultant "on future product plans and strategies for a two-year period".
"To drive Pipistrel's ambitious goals and to continue its story of success, the joining of Textron and Pipistrel provides deep expertise and resources which would otherwise be inaccessible to Pipistrel alone," says Boscarol.
In 2020, Pipistrel's Velis Electro became the first all-electric aicraft to receive full European Union Aviation Safety Agency certification.