United Engine is aiming to secure a type certificate for the Aviadvigatel PD-8 in 2023, with production work already underway on the first prototype for certification tests.
The PD-8 is being developed as an alternative engine to the PowerJet SaM146 for the Sukhoi Superjet 100. Russia's United Aircraft is intending to produce a version of the Superjet, called the SSJ-New, featuring a higher proportion of domestic content.
"Design of the engine has already been determined," says United Engine, adding that a set of design documentation has been issued.
"It is necessary to make prototypes of the engine for certification tests. Parts of the first prototype have already been put into production."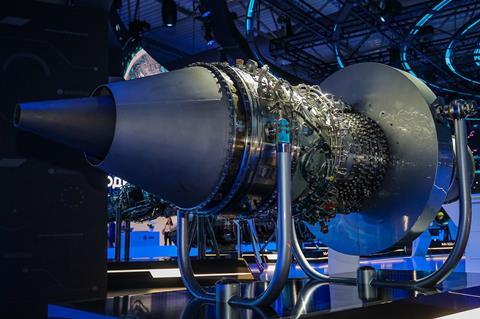 United Engine says it has successfully performed the first round of engineering checks on a gas generator for the powerplant.
The manufacturer is displaying a gas generator demonstrator for the PD-8 at the MAKS 2021 air show in Moscow.
"PD-8 will not be inferior to the engines that will appear over the next decade in terms of reliability, operating safety, as well as maintainability," insists United Engine general designer Yuri Shmotin.
Only domestic materials and components are being used in the engine's design, the manufacturer adds, with the developer taking advantage of work undertaken through other United Engine projects to reduce the cost and meet "tight" deadlines of the SSJ-New programme.
United Engine says the PD-8 will have "promising environmental characteristics" which will "ensure the competitiveness" of the powerplant.