US based firm Mammoth Freighters has joined the line-up of companies aiming to offer Boeing 777 cargo conversions, with a portfolio covering the long-range -200LR and -300ER models.
The company intends to begin modification of an initial 777-200LR – converting it to a -200LRMF – in the second quarter of next year.
Mammoth expects US FAA approval for the supplementary type certificate in the second half of 2023.
"Design and engineering for the 777-200LRMF programme is well underway with tooling and parts already in fabrication," it says.
Mammoth has already sourced a feedstock of 10 777-200LRs from Delta Air Lines. The -200LR was developed as a passenger aircraft but the airframe also serves as the platform for Boeing's new-build 777F.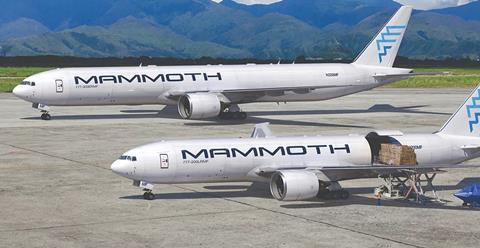 Initial flight tests have been conducted with a 777-200LR ahead of modification, says Mammoth.
It estimates that the -200LRMF will have a payload capability of 105t and puts the -300ERMF's at just under 100t.
The Florida-based company says it is supported by private investment funds associated with Fortress Investment Group.
Mammoth says it "brings a flexible business model to market" which will give cargo operators and asset owners "dynamic new options", allowing them to offer their own aircraft for conversion or lease converted freighters.
Both the -200LR and -300ER are powered by General Electric GE90 engines and Mammoth co-chief Bill Tarpley says these aircraft are "renowned for having superior operating economics" compared with older Boeing 747-400s and MD-11s.
Tarpley formerly worked with Boeing as a programme manager for 767, DC-10 and MD-10 conversions.
He says the two 777 variants "have a bright future" supporting air cargo demand, adding that the company will be able to supply express and e-commerce, as well as general freight, operators with "highly-affordable" purpose-built jets.
Mammoth was founded in late 2020 with the specific aim of offering 777 cargo conversions.
Israel Aircraft Industries has already linked with lessor GECAS to offer 777-300ER passenger-to-freighter modification, while US operator Eastern Airlines recently disclosed that it was planning to offer conversions for the older -200ER.