Electric aviation start-up Vertical Aerospace is to cooperate with infrastructure operator Ferrovial – which holds a 25% stake in Heathrow Airport (HAL) – to create a network of 25 so-called vertiports across the UK, supporting domestic launch operator Virgin Atlantic Airways.
Vertiports enable the take-off, landing and, crucially, charging of electric vertical take-off and landing (eVTOL) aircraft. They are also expected to be integrated with other transport modes.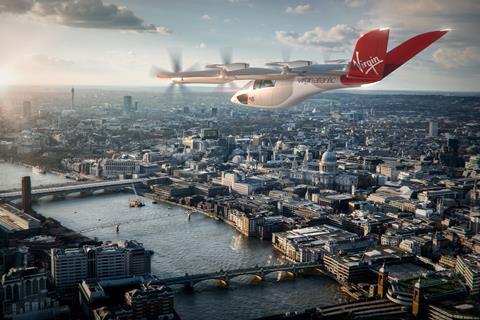 Vertical says it will now work with Ferrovial to "locate and design" its UK vertiport network. Earlier in October, Vertical announced that it was partnering with Heathrow to explore how its four-passenger VA-X4 could be operated from the hub by the mid-2020s.
Aside from the stake in HAL, Ferrovial also has 50% shareholdings in Aberdeen, Glasgow and Southampton airports, plus interests in another 29 facilities across Europe.
The Spanish infrastructure giant has previously announced an agreement with eVTOL developer Lilium to construct a network of vertiports across Florida, plus has proposed building a 20-strong network of facilities in its home country.
Few details of Ferrovial's vertiport design have emerged, although they are likely to be 'aircraft-agnostic' facilities.
Meanwhile, Vertical has secured an additional $205 million in financing. Led by Mudrick Capital, the investment will give the Bristol-based firm sufficient capital to bring the VA-X4 into serial production, it says.
Mudrick is contributing $200 million, while Kouros SA is adding $5 million. They join existing investors American Airlines, Avolon, Honeywell, Microsoft's M12 and Rolls-Royce, who are backing the developer as part of its US stock market listing.
Vertical holds conditional pre-orders for up to 1,350 VA-X4s worth $5.4 billion; certification is expected in 2024 with operations set to launch the following year.