Trustees of a preserved Avro Vulcan are not ruling out a ferry flight to a new location, following a decision not to extend the parking agreement for the bomber at Doncaster Sheffield airport.
The loss-making airport is facing uncertainty and potential closure after its operator initiated a strategic review of the site.
But even before the review the Vulcan to the Sky Trust – the charity which oversaw the aircraft's restoration and return to flight – had been informed that the parking agreement would not be renewed once it expires in June next year.
The aircraft was grounded in 2015, after several years of performing at air shows, but efforts to fundraise for a permanent hangar have not been successful.
Its trustees have yet to find a suitable location to house the jet. Two potential sites – yet to be identified – are under consideration.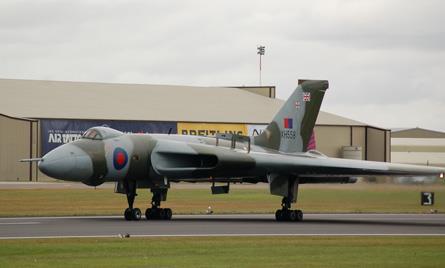 The trust's chair, John Sharman, says transporting the Vulcan would involve "significant challenges", such as dismantling the jet and rebuilding it.
But he is not ruling out the possibility of securing permission for a one-off short ferry flight to enable the aircraft to arrive intact. Sharman says the trust is "exploring every option", even though the Civil Aviation Authority had previously denied further permission for the aircraft to fly again.
"While we acknowledge that it would be extremely sad to dismantle [the Vulcan], it would mean that, ultimately, [the aircraft] will be preserved and will still be able to inform, educate and inspire future generations of engineers," he adds.