Hybrid-electric propulsion specialist ZeroAvia has taken delivery of a second Dornier 228 which will supplement the conversion and test programme already underway on another of the type.
The 19-seat aircraft will be US-based, located in California, and act as a platform for new component and integration tests.
Registered N409VA, the twin-engined 228 was originally delivered to Midnite Express in 1987 and was most recently in service with Vision Airlines.
Conversion of the aircraft – to feature both the hydrogen-electric powertrain and conventional engine – will take around three or four months, says ZeroAvia. The modified Dornier will support certification work on the new ZA600 powerplant by the US FAA.
The company intends to certify the ZA600 in 2024.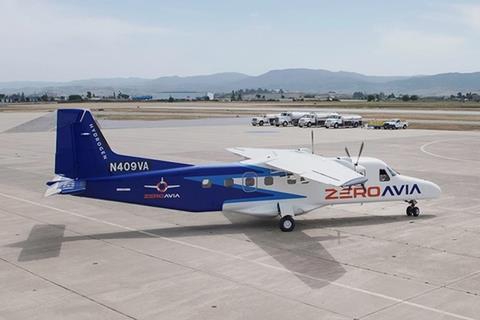 ZeroAvia has been converting its first 228 in the UK, through its HyFlyer II initiative, and the US aircraft's development will take advantage of this work and expand the test range.
"Ultimately, this will help us optimise our zero-emission powertrain design ahead of certification," says ZeroAvia chief Val Miftakhov.
He says the conversions will give the company two flight-demonstration aircraft on two continents, and help obtain further partnership and customer commitments.
ZeroAvia says the modified aircraft's demonstration programme will encompass passenger, cargo and other operations with "a number" of partners, the identities of which have yet to be disclosed.
The company is expanding its Californian facility, at Hollister, to include a hangar and office space, providing room for engineering and testing.
"There is huge potential for Hollister municipal airport to become a hydrogen hub," claims San Benito county Economic Development Corporation executive director Renee Wells.
"Since California leads the world in adopting zero-emission vehicles, zero-emission flight infrastructure is the next natural frontier."