Future propulsion innovator ZeroAvia has wholly acquired the fuel-cell stack specialist HyPoint, to reinforce its hydrogen-electric product line.
ZeroAvia is developing powertrains for hydrogen-fuelled engines and has co-operated closely with HyPoint, particularly in the UK, over the last couple of years.
The acquisition follows a previous tie-up, aimed at developing fuel-cell stacks, with Scandinavian energy company PowerCell Sweden.
Terms of the HyPoint agreement have not been disclosed.
But ZeroAvia says it gives the company access to HyPoint's high-temperature fuel-cell technology, describing it as a "promising avenue" to increased energy density and power output.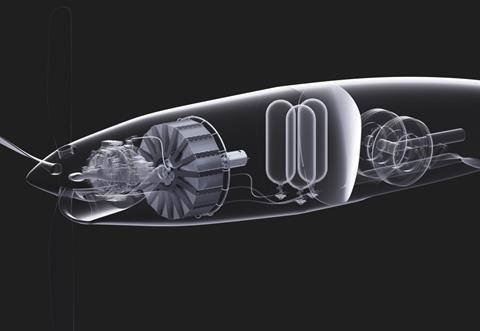 ZeroAvia chief Val Miftakhov, who was already on HyPoint's advisory board, says the deal is a "hugely important strategic step" to consolidate its position in hydrogen-electric powertrain development for the aviation sector.
"There are no other organisations with the breadth of expertise and world-leading intellectual property in hydrogen-electric aviation that we now have within the company," he adds.
HyPoint's engineering team will join the ZeroAvia hydrogen power-generation systems division, and all 40 personnel associated with HyPoint will be integrated with ZeroAvia across UK sites in Gloucestershire and Kent.
ZeroAvia says HyPoint chief Alex Ivanenko will become general manager for VTOL and new segment development, focused on rotorcraft and other activities beyond the fixed-wing propulsion sector.
"HyPoint has garnered recognition as an innovator developing technology with the potential to significantly expedite the introduction of fuel cell propulsion into larger aircraft," says ZeroAvia, which has been working on adapting its hydrogen-electric engine technology to Dornier 228s.
Ivanenko states that the acquisition is a "natural next chapter" for HyPoint, enabling it to take advantage of ZeroAvia's resources.
"It will accelerate our product development and, as a result, partners from different market segments will get mature products based on novel [high-temperature] hydrogen fuel cells," he adds.