Airbus chief executive Guillaume Faury has signalled to investors that a stretched A220 is necessary to turn the twinjet into a strong product family.
Speaking at a capital markets event on 23 September, Faury said the 'A220-500' – as the possible stretch has been loosely dubbed – "makes a lot of sense for us, at a certain point in time".
Airbus currently manufactures the A220-100 and larger -300.
"I think [the A220] needs the -500 to be a powerful product range," says Faury. "That's what we hear from airlines as well.
"The -300 is a very good [aircraft]. The potential of the 500 is probably even stronger."
Faury says he sees the opportunities presented by a fuller A220 line-up "going quite high".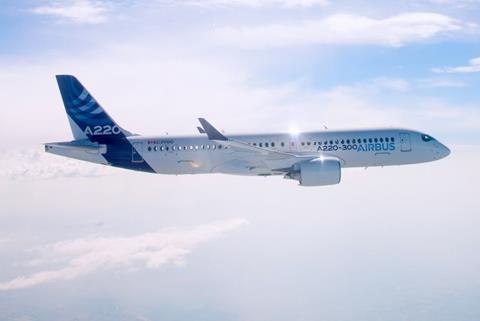 But he stresses that Airbus "still has a lot of work to do" on the A220 programme before it considers embarking on a -500 variant.
Airbus is still trying to achieve break-even on the A220. Faury says the company is "on trajectory" for reducing costs on the programme, while ramping-up from a monthly rate of six to 14 aircraft by mid-decade.