Airbus believes its policy of overbooking orders will give the airframer a degree of flexibility to manage the impact of the coronavirus crisis on its production and delivery processes.
Chief executive Guillaume Faury says the single-aisle backlog, over 6,200 A320-family jets, includes a "significant level" of overbooking which is "providing a cushion for deliveries".
While Airbus is not detailing its "recipe" for overbooking, in terms of the proportion across any particular time period, Faury points out that the A320neo's entry into service was managed through the policy.
The engine problems which subsequently affected deliveries, along with the delays in ramp-up – particularly with the Cabin-Flex version of the A321neo – have resulted in Airbus's accumulating "quite a significant number of aircraft in overbooking", says Faury.
"That's now very helpful," he adds.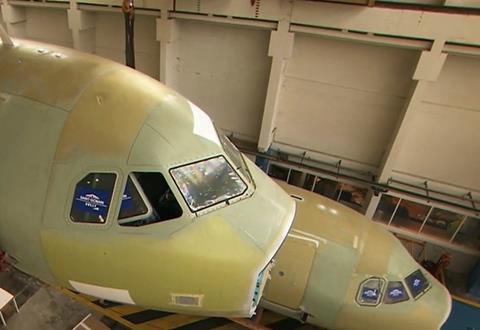 He says that deliberate overbooking has previously enabled Airbus to "dampen the effect" on deliveries during a number of different occurrences, including crises with in the industry, although none as deep as the coronavirus situation.
"We anticipate that this is going to happen again with this [crisis] on the A320neo," says Faury.
As airlines revisit capital expenditure plans, he states, the quality and size of the backlog will serve as a "shock-absorber", adding that Airbus will have a "high degree" of flexibility given its contractual rights, in the event of deferral or cancellation, to withhold pre-delivery payments, re-allocate slots, or remarket aircraft.