Airbus is to participate in an in-flight study to assess the impact of unblended sustainable aviation fuel on single-aisle aircraft operations using an A320neo.
Emissions from the aircraft, fitted with CFM International Leap-1A engines, will be analysed in the air as well as on the ground.
CFM partner Safran will also take part in the scheme along with Dassault Aviation, the French aerospace laboratory ONERA and the French transport ministry.
Airbus says A320neo used for the project – known as 'Volcan' – will fly by the end of this year.
"[This is] the first time that in-flight emissions will be measured using 100% sustainable aviation fuel in a single-aisle aircraft," it adds.
TotalEnergies will supply the various fuels which will power the twinjet.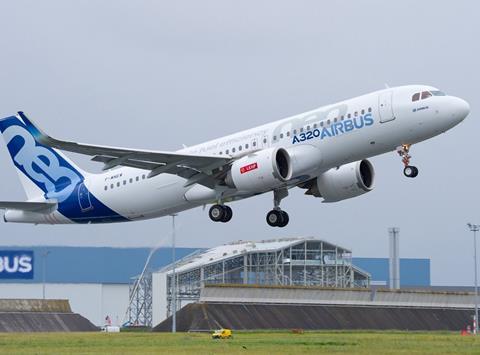 Safran will concentrate on compatibility studies related to the fuel system and engine adaptation for commercial aircraft, as well as helicopters, plus optimisation for different fuel types.
Dassault's tasks will include verification of susceptibility to bio-contamination.
"This study will support efforts currently underway at Airbus and Safran to ensure the aviation sector is ready for the large-scale deployment and use of sustainable fuels," says Airbus.
It intends the work to support the eventual certification of single-aisle aircraft and business jets for operations with unblended fuel.
Airbus is already engaged in a similar programme alongside Rolls-Royce to examine in-flight emissions from twin-aisle aircraft, using an A350-900 powered by unblended sustainable fuel as the platform.