Airbus has been deploying an A330-800 test aircraft to assist with coronavirus protection measures, using it to transport some 2 million masks from Tianjin in China to Europe, where they will be distributed to French and Spanish authorities.
The airframer disclosed the measure as it prepares to restart – at least partially – production and assembly work in both countries on 23 March.
Airbus had temporarily halted the work while it conducted health and hygiene checks to ensure compliance with efforts to combat the coronavirus outbreak.
It says it has donated "thousands" of masks to hospitals and other institutions in Europe and has started using test aircraft to transport larger quantities from Chinese suppliers.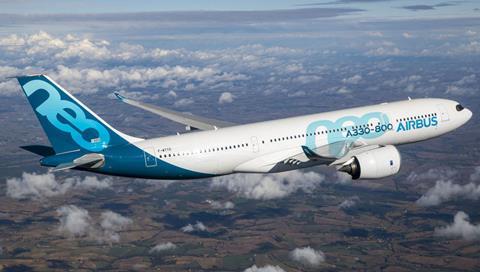 "We try to live up to our values, humbled by the complexity of the situation, and contribute as much as we can to society in these very difficult times," says chief executive Guillaume Faury.
The A330-800 (F-WTTO) flew to Tianjin from Toulouse on 21 March and departed for the return service the next day.
"Additional flights are planned to take place in the coming days," says the airframer.
It states that it has been conducting "extensive work" in co-operation with social partners to address health and safety criteria, and implementing them demanded a four-day suspension of production at the French and Spanish plants for four days.
"Work stations will only re-open if they comply with the new health and safety measures in terms of hygiene, cleaning and self-distancing, while improving the efficiency of operations under new working conditions," says the manufacturer.
"The same measures are being deployed across all other sites without full interruption."
Airbus had temporarily halted work at the Chinese final assembly line in Tianjin in February, as the coronavirus crisis emerged, before restarting.