Orders for Airbus's A350 freighter have passed the total number of deliveries for its A330-200F, although the earlier cargo aircraft's own order backlog had once peaked at nearly 80 jets.
Airbus has firmed orders for 39 A350Fs in the 15 months since the first aircraft were recorded in the backlog. The A330-200F took just four months to accumulate the same number, but ultimately only 38 aircraft were handed over in the decade following its launch.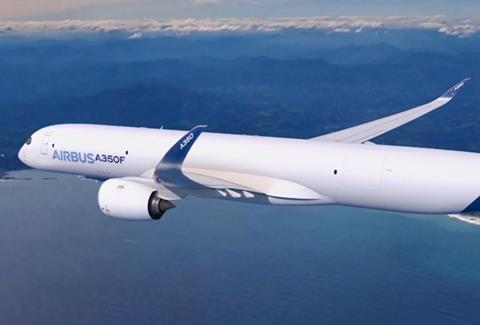 The A330-200F, with payload capability of 64t, marked the airframer's previous attempt to emulate the success of its A300-600F line and compete with the Boeing 767-300F in the new-build twinjet freighter market.
It was formally launched in 2007 with commitments for 32 aircraft from lessors Guggenheim Aviation and Intrepid Aviation Group, and would-be Indian operator Flyington Freighters.
Airbus aimed to capitalise on strong forecast demand for some 400 new-build mid-sized freighters between the Boeing 757 and MD-11.
Within a year of launch the A330-200F had accumulated orders for 77 aircraft, with nine customers including Aircastle, Etihad Airways, Avion Aircraft Trading, MNG Airlines, MatlinPatterson and BOC Aviation.
But the backlog began to bleed away even as deliveries started in 2010, with Etihad taking the first.
Over the next five years total orders declined to 42, and failed to increase again. Airbus has delivered 38, but the most recent was to Etihad in February 2017, and the remaining backlog was removed in 2020.
Airbus believes the decision to base the freighter on the A330-200 – opting for range over capacity – was partly responsible for the weak sales.
The airframer's EFW joint venture has attracted interest in freight conversion of the 61t A330-200 as well as the larger 63t A330-300.
Airbus's latest entry into the freighter sector, the A350F, will be a higher-capacity aircraft – capable of transporting a 109t payload – and commitments to the aircraft have gradually been edging upwards, with a recent deal for four, from an undisclosed customer, taking overall firm orders to 39.
Air France-KLM Group is the primary customer, taking eight for Air France Cargo and Martinair, while logistics firm CMA CGM – which has a co-operation pact with Air France-KLM – has ordered four. Air Lease, Singapore Airlines and Etihad have each ordered seven, and the remaining two in the backlog are allocated to Azerbaijan's Silk Way West.