Airbus has used its A380 test aircraft, MSN1, to carry out a flight using wholly-sustainable aviation fuel.
The aircraft flew from Toulouse on 25 March with one of its Rolls-Royce Trent 900 engines powered by 100% sustainable fuel.
Airbus says the duration of the flight was around 3h.
The aircraft was supplied with 27t of the fuel by Total Energies. It was produced near Le Havre and sourced from hydro-processed esters and fatty acids – mainly from used cooking oil, plus other waste fats.
Airbus says it plans to conduct another flight with the same aircraft, operating Toulouse-Nice on 29 March, to assess the performance of the fuel during take-off and landing.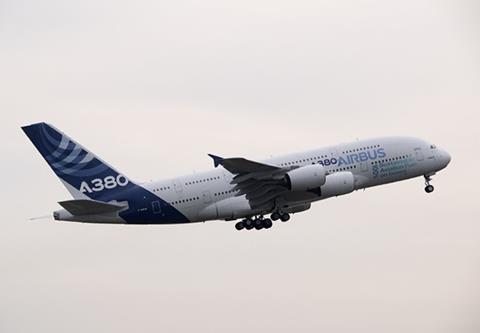 Last year the airframer flew an A350 and an A319neo using wholly-sustainable fuel.
"Increasing the use of [sustainable fuel] remains a key pathway to achieving the industry's ambition of net-zero carbon emissions by 2050," the manufacturer states.
All aircraft across the Airbus range are already certified to fly with a 50% sustainable fuel blend.