Airbus has acknowledged that its inventory of undelivered aircraft includes a number of 'white-tails', but stresses that the proportion is relatively small.
The airframer put the undelivered total at 135 by the end of September, down from 145 at the end of June, although it has not specified the extent to which the mix of undelivered aircraft has changed.
Speaking during a third-quarter briefing on 29 October, Airbus chief financial officer Dominik Asam said the "lion's share" of the stored aircraft have customers, to which deliveries have been postponed.
But he also acknowledges a "very low double-digit number" of 'white-tails' – aircraft produced without a customer commitment. The types have not been identified.
Airbus's overall recorded inventory at the end of September stood at €36.65 billion, lower than the €37.52 billion at the end of the previous quarter.
The company says the €5.1 billion increase in inventory from the close of 2019, driven by a €4.17 billion rise from its commercial aircraft arm, is "mainly due" to the delivery deferrals and higher numbers of stored aircraft.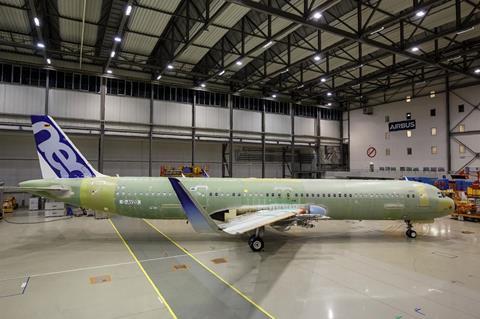 Airbus had recorded 66 cancellations in the first quarter of this year, before the onset of the crisis.
These included 21 long-haul jets – comprising 10 A350s for LATAM, five for Kuwait Airways and two for Lufthansa, plus four A330neos for lessor Avolon.
Among the 45 single-aisle cancellations were 16 A220s for SaudiGulf Airlines, plus 20 A320neo-family jets for Avianca, and nine for Avolon.
But Airbus listed only four additional cancellations – three A220s for Macquarie and another Avolon A330neo – in the subsequent six months to the end of September.
Asam says the airframer continually "screens the financial health" of its customers, and that this is reflected in the re-phasing of deliveries.
But he adds that the aircraft financing market is "quite solid" and that tools such as export credit, which had been "sleeping", are being "resuscitated" during the crisis.