Airbus is committing to a substantial hike in A320 production rates to 75 aircraft monthly over the next three years.
Chief executive Guillaume Faury disclosed during a first-quarter briefing that the airframer aimed to reach the output level in 2025.
The company had already been moving to raise the monthly production rate to 65 aircraft by summer next year, to carve into the backlog of A320-family jets which – at the end of March – stood at 5,741.
Faury had previously pointed to a decision on increasing single-aisle production rates by mid-year but states that this has been "accelerated".
"We had indicators telling us it was the right moment [and] conditions for launching a rate increase," he says.
Airbus has long stated that the demand for the aircraft is strong, but that it has had to verify the preparedness of the supply chain.
Faury says that the airframer has assessed a large number of suppliers. "We got feedback that tells us [the rate increase] is possible," he states.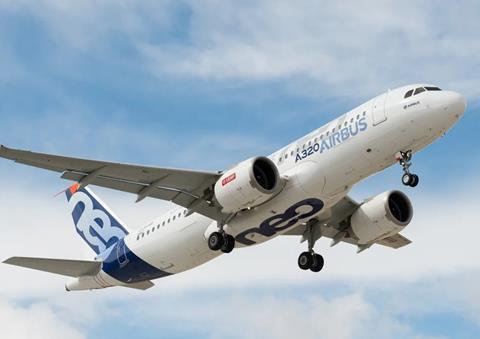 "We see that from rate 65, that we intend to reach in the middle of next year, and 2025 this gives enough time to have a speed of ramp-up that's consistent with what the supply chain will be able to deliver."
Airbus will introduce the ramp-up "progressively", he says, but adds that giving precise monthly delivery figures for 2024-25 would be "premature".
He points out that a "lot of challenges" remain in the short term – including the continuing recovery from the pandemic – which bring complexity to the supply chain, and indicates that, while there are no significant departures in quality, the ability of suppliers to deliver on time is "changing tremendously".
Faury says that early detection of supply-chain issues, enabling prompt action to be taken, will be essential to managing the ramp-up.
Airbus will meet the higher production rates by increasing capacity at its industrial facilities and "growing the industrial footprint" at its US plant in Mobile. Its preparations include ensuring that all the final assembly lines are capable of producing the A321neo.
"We see continuing strong growth in commercial aircraft demand [beyond this year] driven by the A320 family," says Faury. "This ramp-up will benefit the aerospace industry's global value chain."