Airbus has signalled that it plans to raise production rates across its range, although the output for single-aisle jets will remain the priority.
It is intending to hike monthly A320-family production to 65 aircraft by summer 2023, up from a previous figure of 64, while the A220 rate will be lifted from five to six aircraft early next year as it aims to take the figure to 14 by mid-decade.
Airbus says "recent commercial successes" for the A330 will allow a slight rise in monthly production from two to "almost three" aircraft at the end of 2022.
But production of the A350 – currently at five per month – will not increase to six until early 2023, in contrast to Airbus's previous expectations that this would occur by autumn 2022.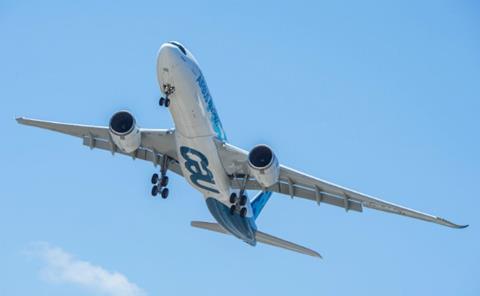 Airbus says it is "working to secure" the ramp-up of A320-family manufacture, which has previously drawn concern from parts of the supply chain, insisting it is "on trajectory" to achieve the figure of 65 aircraft per month by summer 2023.
Chief executive Guillaume Faury says the company is "striving to ensure the right industrial and supply-chain capabilities are in place".
The airframer is maintaining its delivery target of 600 commercial aircraft for 2021, having handed over 424 in the first nine months of this year.
These deliveries have been reflected in the Airbus financial performance to 30 September, with commercial aircraft revenues up 21% to €24.6 billion.
This division turned in an adjusted EBIT of €2.7 billion compared with the loss of €641 million at the same point in 2020.
"The nine-month results reflect a strong performance across the company as well as our efforts on cost containment and competitiveness," says Faury.
"As the global recovery continues, we are closely monitoring potential risks to our industry."