Airbus has flown all three of its A321XLR test aircraft, but expects entry into service will not take place until the second quarter of 2024.
The airframer had previously indicated that its introduction would take place in early 2024, as a result of a delay in the certification campaign to meet additional European Union Aviation Safety Agency requirements.
Chief executive Guillaume Faury gave the update in a third-quarter financial briefing on 28 October.
He says that, with the three A321XLR prototypes flying, the development and certification schedules have become "more precise and stabilised". Faury adds that the revised entry-into-service date "fits", and that it is "not materially later" than the company's previous expectations.
Service entry for the aircraft, the longest-range member of the A321neo family, had originally been planned for 2023 but Airbus revealed in May that it had slipped to the following year.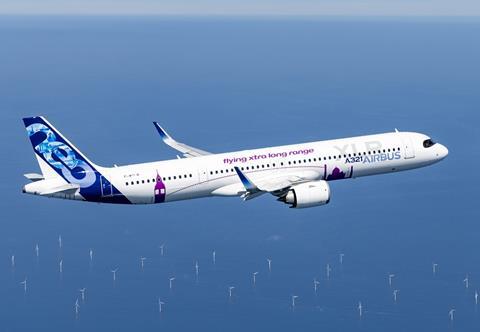 Airbus says A320neo-family production rates are "progressing" towards the target of 65 aircraft per month in early 2024 and 75 in 2025.
"The groundwork continues throughout all sites to secure rate 75 and adapt to the higher proportion of A321s in the backlog," it adds.
Preparation for upgrading the second A320neo final assembly line in Toulouse is underway. Faury adds that work to upgrade the Chinese facility in Tianjin to manufacture A321s is complete, and that the site is "currently assembling" its first example of the variant.
Airbus is maintaining its full-year target of delivering 700 commercial aircraft, and its earnings outlook, in the face of continuing pressures on the supply chain.
Faury says the supply chain "remains fragile" as a result of the impact from the pandemic, the Ukrainian conflict, energy provision and constrained labour markets.
But he adds that the company's "strong focus" on cash-flow and the US-European currency exchange rates have enabled it to raise free cash-flow guidance for the year.
Over the third quarter Airbus's commercial aircraft adjusted earnings increased by a third to €599 million, and by 5% across the first nine months of the year to €2.87 billion.
Commercial aircraft revenues for the nine-month period rose by 8% to €26.6 billion. The financial performance was assisted by higher commercial aircraft deliveries and a "favourable mix", says the airframer.