Airbus has formally listed its highest weight variant for the A350-1000, which will have a maximum take-off weight of 319t.
This version of the twinjet, designated as weight variant WV006, is 3t heavier than the previous 316t variants WV002 and WV011.
Fuel capacity of the new variant remains the same as the others, a figure Airbus gives as 156,000 litres – although the European Union Aviation Safety agency puts the -1000's usable fuel at just under 158,800 litres including nearly 100,000 litres in the centre tank.
The 319t aircraft is listed with a maximum zero-fuel weight of 223t, in revised airport planning documentation, and maximum landing weight of 236t.
No payload-range data has been featured for the variant. Airbus still lists the typical range of the 316t version at around 8,200nm with 366 passengers.
Airbus has previously signalled that a 319t airframe would be the foundation of its offer to Qantas for the Australian carrier's Project Sunrise programme.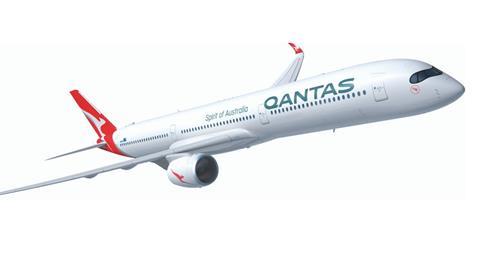 The programme aims to provide non-stop service to cities including Sydney and Melbourne from points such as London and New York – although, as a consequence of the pandemic, the airline has yet to order the intended A350-1000s and has indicated that introduction of Project Sunrise flights is being pushed back at least to 2024.
Qantas selected the A350-1000, equipped with Rolls-Royce Trent XWB engines, after considering the General Electric GE9X-powered Boeing 777X.
Airbus has not yet confirmed how the Qantas aircraft will meet the range demand for Project Sunrise, and whether this will include additional fuel capacity, but it has shied away from suggesting it will be an 'ultra long-range' modification in the same sense as the A350-900ULR.
Singapore Airlines introduced the A350-900ULR – designated as the -900's weight variant WV013 – which has higher usable fuel volume, de-activated forward cargo hold, and lower seat-count to achieve the range required.