Airbus is intending to deliver 720 commercial aircraft this year, the figure it had originally laid down for 2022 before supply-chain problems forced a downward revision.
But this target still remains far below the 863 deliveries it managed to achieve in 2019, the year prior to the onset of disruption from the pandemic.
Airbus has been trying to restore output, after slashing production rates in response to the pandemic's effect on demand, but the slow recovery of the supply-chain has hampered its efforts.
The airframer handed over 663 aircraft last year – although the formal total was 661 after it adjusted for two Aeroflot A350s which could not be delivered owing to international sanctions.
Its delivery total was nevertheless higher than the 611 achieved in 2021, and this was reflected in a 15% rise in full-year commercial aircraft revenues to €41.4 billion ($44.3 billion).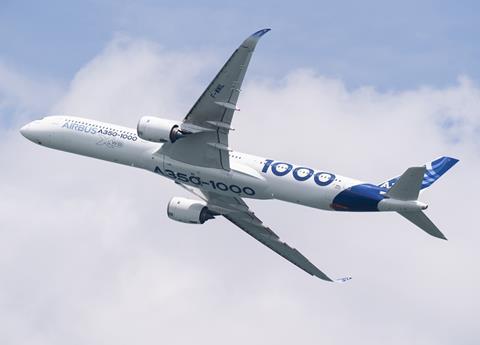 Airbus's adjusted earnings for the commercial aircraft sector rose by 29% to €4.6 billion, the company disclosed during its full-year results briefing on 16 February.
The company attributes the performance improvement not only to the higher deliveries but also the strengthening of the US dollar.
"We delivered solid financials despite an adverse operating environment that prevented our supply chain from recovering at the pace we expected," says chief executive Guillaume Faury.
He adds that the year demonstrated that airlines are returning to long-term fleet planning, with net orders for 820 aircraft.
"We are focused [this year] on our industrial activities and the longer-term transformation of the company," says Faury.
Airbus is forecasting a consolidated adjusted earnings figure of €6 billion for 2023, compared with last year's €5.6 billion.