Airbus delivered 661 commercial aircraft last year, falling nearly 40 short of a conservatively-revised target as the airframer grappled with supply-chain issues.
The deliveries comprised 60 A350s – after accounting for a pair whose delivery to Russian carrier Aeroflot was cancelled – plus 32 A330s, 516 A320-family jets and 53 A220s.
Airbus originally aimed to deliver 720 aircraft at the beginning of last year – a modest figure given that it had already demonstrated the ability, pre-pandemic, to reach more than 800 deliveries.
But it was forced to revise this down to 700 in July 2022 as the airframer faced with ramp-up and supply-chain snags.
Airbus subsequently acknowledged in December that it was likely to fall short of this lower target, despite having successfully coped with heavy back-loading in previous years which often left it with a disproportionate number of final-quarter deliveries. The airframer handed over 98 aircraft in December.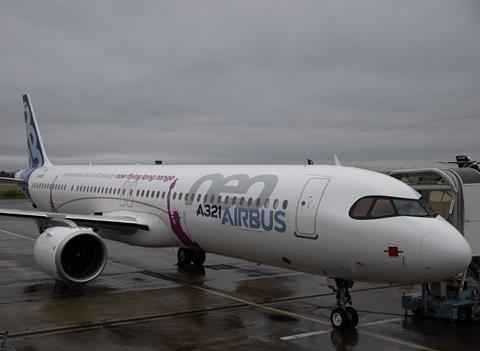 The airframer has been striving to increase output on its A320neo-family line, with the intention of reaching a monthly rate of 65 aircraft in early 2024 and 75 in 2025.
Chief executive Guillaume Faury acknowledges that the deliveries figure is "obviously less than we were targeting", but highlights the "complexity of the operating environment".
Airbus gross orders for last year reached four figures, standing at 1,078 aircraft, although cancellations left it with a net total of 820 – including an overall negative net figure for its widebody lines.
"The significant order intake covering all our aircraft families including freighters, reflects the strength and competitiveness of our product line," says Faury. "We continue our ramp-up trajectory to deliver on our backlog."
Airbus recorded net orders for 10 A350s, but a net deficit of 65 A330s. Its single-aisle range, however, took 875 net orders including 105 A220s.