Airbus is not expecting to make substantial adjustments to its production rates for the foreseeable future, following the cuts to monthly output it disclosed in early April.
The airframer has brought monthly single-aisle production down from 60 to 40 aircraft, while the twin-aisle rate has fallen from 9.5 to six for the A350, and 3.5 to two for the A330neo.
Speaking as Airbus revealed plans to cut 15,000 personnel from its global workforce, chief executive Guillaume Faury said the rates demanded were "still in the same ballpark" and that the airframer's estimates in April were "not too wrong".
He says Airbus does not expect to adapt the rates significantly over the next few months, beyond minor refinements – although he suggests that any adjustments would more likely be "a bit more down than up".
Faury points out that the commercial aircraft business activity is down by around 40% and that this sector will bear the burden of the job cuts.
But he states that the situation with respect to the workforce adjustments "could have been significantly worse".
By taking preparatory measures and using the support of government initiatives, he says, the company has managed to avoid a level of job cuts which would have been "in direct proportion to the [business] impact".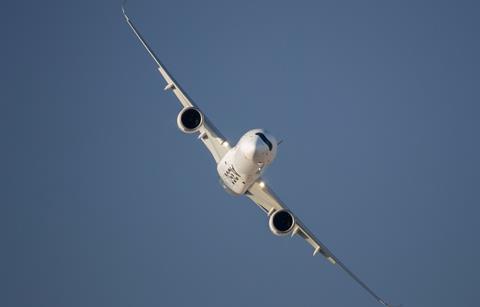 Faury is forecasting a "low level" of production for about two years, with the likelihood of a ramp-up from 2022, initially in the single-aisle sector. The downturn for the twin-aisle market, however, will last "much longer", he believes.
He says Airbus is looking to "find the right balance" in order not to deplete its skills resources to a level which would threaten its recovery ability.
Faury stresses that the industrial workforce adjustments are purely the result of the coronavirus crisis, and the reduction in aircraft demand, and – particularly in the UK – not the anticipation of effects arising from the UK's withdrawal from the European Union.