Airbus is to roll back wing production at its UK and German plants, to bring wing supply into line with demand at its final assembly lines.
Production at its UK wing sites at Broughton and Filton, as well as its high-lift operation in Bremen, will be reduced for three weeks, the airframer says.
The UK workforce will be put on an extended Easter holiday break while Bremen personnel will adapt to a shorter working week.
Airbus stresses that the plants will remain open to ensure that wing deliveries continue to the airframer's assembly lines, and to maintain control over the component supply chain, ahead of the resumption of activity. Remote working will be introduced where appropriate.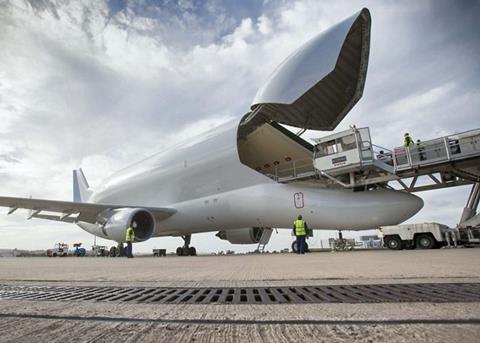 The manufacturer had previously suspended production, for several days, at its French and Spanish sites – but not Germany or the UK – as the coronavirus crisis resulted in governments introducing compliance measures to counter the contagion.
It says it "partially resumed" production and assembly work in France and Spain on 23 March.
Airbus says it is adapting UK and German wing production after reviewing completed stock levels at the wing facilities and comparing it with the demand from final assembly lines.
Final assembly of commercial aircraft within Europe is carried out in Toulouse and Hamburg. Wings are manufactured in China for its Tianjin assembly line, while wings are also transferred to the US assembly site in Mobile.
The airframer has been working to contain the impact of coronavirus on its production and delivery schedule, after interruptions to Chinese deliveries earlier this year and the subsequent dramatic cuts in capacity introduced by European and US carriers.
Airbus has not detailed the impact on production rates for specific models, although chief executive Guillaume Faury acknowledged that the coronavirus crisis is particularly affecting long-haul travel owing to international and intercontinental restrictions.
Long-haul aircraft production, he pointed out, had already been under pressure from lower market demand, while Airbus's single-aisle backlog and output had remained strong.
Faury says the airframer is not prioritising production flow levels but instead concentrating on maintaining stability and meeting compliance requirements.
"The company has carried out extensive work in co-ordination with its social partners to ensure the health and safety of its employees by implementing stringent health and safety measures, while securing business continuity," Airbus says.
It adds that it is "continuing to evaluate" production flow given the changes in working practices required to meet new health and safety rules.
"Airbus needs to continue its activities to support the global crisis efforts, support customers, suppliers and the global economy," it states.