Airbus indicates that its proposed A350 freighter derivative will be a light hybrid of its current variants but primarily based on the -1000.
It is aiming for a 2025 entry into service for the twinjet, after the company secured board approval for its development, but the airframer is yet to disclose any potential launch customers.
"It's based on the existing [A350] building blocks to a large extent," said Airbus chief executive Guillaume Faury, speaking during a first-half results briefing on 29 July.
But he says the freighter design is "predominantly coming from the -1000" and the larger A350 variant will be the "main driver".
While performance details have yet to emerge fully, Faury says the freighter will have a 90t-plus payload capability.
Production will be "embedded" in the current A350 assembly lines, he adds, and Airbus expects to benefit from the "weight of learning" from its BelugaXL programme, the outsize freighter for its logistics arm which was developed from the A330.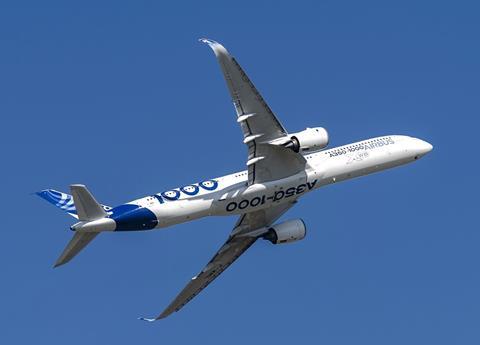 Although cargo traffic has risen sharply as a direct result of the pandemic, Faury is not concerned about the market for an A350 freighter drying up as the recovery progresses and passenger belly-hold cargo returns.
"The wave is ahead of us," he claims. "There's a strong utilisation of cargo capacity [during the pandemic] but still a lot of old [aircraft] and we see a wave of replacements for the second half of the decade."
He believes the timing of the freighter development decision is "very good", with the aircraft set to compete only with "old variants" and the A350 will be the "only new-generation freighter".
Passenger variants of the A350 are powered exclusively by Rolls-Royce Trent XWB engines.
Faury says the aircraft is a "very strong" platform and has the potential to be "very competitive" on the market, in terms of capacity and fuel-burn, particularly given the changes in ICAO environmental regulations due from 2028.
"[We've] been quite absent from the widebody freighter market so far," he says, with rival Boeing have almost exclusive access. "It's time for airlines to see some competition."
Airbus's research and development expenditure fell by 10% over the first half, but chief financial officer Dominik Asam says a "moderate amount" of research costs for the A350 freighter over the second half of the year will contribute to bringing full-year expenditure to a level similar to that recorded in 2020.