Airbus is still intending to increase monthly A320 production, but at a slower rate than the originally-expected figure of 47 aircraft.
It will raise A320-family monthly output from the current 40 aircraft to 43 in the third quarter, and 45 in the fourth.
"Production rates will remain lower for longer," it says.
It will not increase rates for twin-aisle aircraft which stand at two A330s and five A350s per month.
"This decision postpones a potential rate increase for the A350 to a later stage," says Airbus. Before the pandemic crisis it had been building A350s at about 10 per month.
Output of A220s will increase from four to five monthly from the end of the first quarter.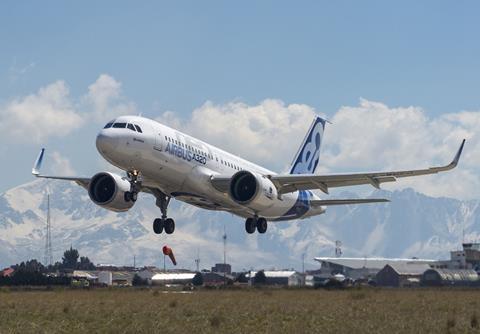 Airbus had been aiming to raise single-aisle production in response to forecast demand, but its expectation of achieving a rate of 47 for the A320 family has proven optimistic.
"With these revised rates, Airbus preserves its ability to meet customer demand while protecting its ability to further adapt as the global market evolves," the airframer says.
Airbus adds that it "continues to monitor the market closely" and believes the commercial aircraft market will return to pre-crisis levels over 2023-25.