Airbus is trimming A350 production rates, to five aircraft per month from six, in a further adjustment to its output in the face of weak air transport market demand.
The airframer has disclosed that some 145 commercial aircraft went undelivered during the first half of this year, as a result of the crisis.
This slump in deliveries meant Airbus's commercial aircraft division posted an earnings loss of €1.8 billion ($2.1 billion) for the six months to 30 June, in contrast to last year's profit of just over €2 billion, and an adjusted loss of €1.3 billion against the previous surplus figure of nearly €2.2 billion.
The adjusted losses include charges of €900 million relating to the coronavirus crisis.
Airbus has already shifted its output to the levels planned in April, when it stated that monthly A320-family production would fall to 40 aircraft, that of the A330neo would be cut to two, and the A350 to six.
The A350 rate, however, is undergoing a further "slight adjustment", the airframer says, to five aircraft "for now". It has not indicated when the rate might be restored to the previous level.
The decision points to persistent weakening of the long-haul sector, a situation which had been evident even before the crisis.
But Airbus says it expects monthly A220 production on its Montreal Mirabel assembly line to return "progressively" to four aircraft. The airframer also opened its US A220 line at Mobile in May.
The company delivered a total of 196 aircraft during the first six months of 2020, but this was barely half the figure of 389 achieved in the same period last year.
These deliveries included 23 A350s and five A330s, plus 157 A320-family jets and 11 A220s.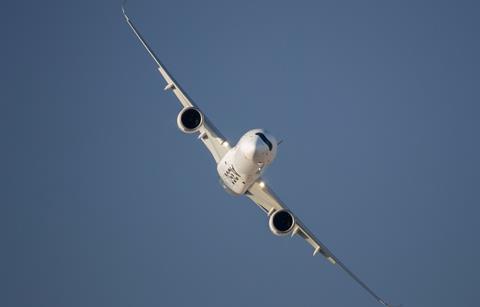 Chief executive Guillaume Faury says the impact of the crisis is "very visible" in the second quarter, with an adjusted earnings loss of almost €1.5 billion in the three-month period. Commercial aircraft revenues in the quarter dropped by 65% to less than €5 billion.
"We have calibrated the business to face the new market environment on an industrial basis and the supply chain is now working in line with the new plan," says Faury.
"We face a difficult situation with uncertainty ahead, but with the decisions we have taken, we believe we are adequately positioned to navigate these challenging times in our industry."
Airbus's consolidated adjusted earnings loss in the first half reached €945 million, and its net loss totalled €1.9 billion.
Faury says the company will concentrate on restricting cash-burn in the second half. Its negative free cash flow, before mergers and customer financing, trebled to €12.4 billion.
But Airbus says the quarterly figures show its cash-containment measures, and the adjustment of incoming supply, have "started to become effective".