Airbus is striving to restore aircraft delivery rates following a dip in the last couple of months, but believes supply-chain hitches are temporary and its broader ramp-up of aircraft production is under control.
The airframer's monthly delivery figure slipped back to 40 aircraft in August and September, its lowest level since February.
Airbus chief Guillaume Faury, speaking during a third-quarter briefing on 28 October, described the situation as "disappointing" and admits September proved to be a "difficult" month – with October likely to be similar.
He attributes the "gap" between production and delivery partly to having aircraft ready, but yet to be taken by customers, while other aircraft have had to be sent for "outstanding work" following assembly as a result of external supply-chain issues.
"They've been through the assembly line but need to be fully finished," he says. He says the airframer plans to deliver the "vast majority" of backlogged aircraft by the end of the year.
Faury says there is no "significant" change regarding the number of suppliers "on watch", although there has been "some change in the mix of suppliers".
"We all observe tension in the supply chain after 15 months of stable rates," he says. "We're now in a ramp-up – we see all the difficulties to go from 'hibernation' back to business."
He says the airframer is "managing individual cases of supplier difficulties", but declines to identify any particular entities.
"I don't want to single out suppliers," he says. "It wouldn't be appropriate to finger-point at some suppliers or sectors."
He stresses that the situation affects only a "small number of suppliers" and that the airframer is "on top of it".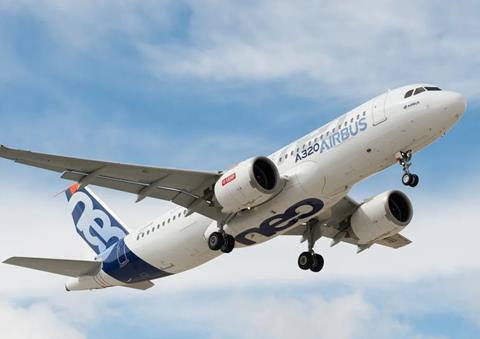 Faury believes the problem is "temporary" and the company is maintaining its delivery target of 600 commercial aircraft for 2021.
"I think we're going to manage, moving forward," he says, adding that the current delays to deliveries will not have an impact on the longer-term ramp-up schedule.
While Faury has outlined plans to take A320-family monthly production rates to 65 aircraft within two years, he is coy on the current output level.
Airbus had previously indicated that it would raise the A320 rate to 45 by the end of this year.
Faury says the airframer felt there was a need to give "very detailed" updates on production rates during the depths of the crisis, because it was "important to be specific and precise" in order to guide suppliers.
But he wants to revert to "more generic" figures as the recovery accelerates. Faury insists the ramp-up trajectory remains the same "in substance", adding that demand "more than supports" the planned hikes in production.
"We've been very granular on production rates," he says, and the company is "progressively coming back to previous practices" – meaning it will be "less specific".
Airbus has asked suppliers to "protect capacity" for increasing the A320 monthly rate to 70 aircraft, but Faury says the company has yet to conclude an assessment on a potential further rise to 75.
"There are lots of views on this," he says. "We have our own views that the demand supports this."