Renewed border restrictions and domestic lockdowns across Asian economies in April have "quelled hopes of a meaningful resumption in international travel" for Asia-Pacific airlines.
The region's airlines continued to see significantly depressed international passenger volumes, carrying just 1.1 million passengers during the month, 3.5% of 2019 volumes, according to preliminary figures by the Association of Asia Pacific Airlines (AAPA).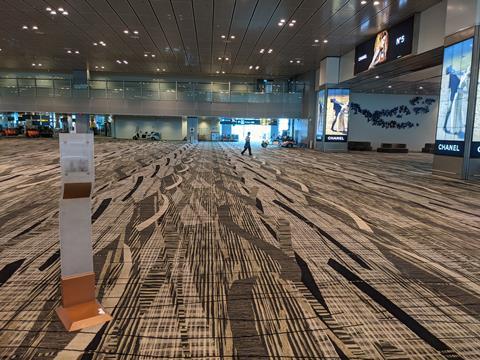 Capacity, as measured in available seat-kilometres, averaged 4% of 2019 levels, while passenger load factor stood at 26%, AAPA said in a 31 May press release.
However, airlines have continued to benefit from an acceleration in global trade activity.
International air cargo demand, measured in freight tonne-kilometres, grew 42% year-on-year in April, slightly higher than in the same period in 2019.
Freight capacity rose 29% year-on-year, pushing cargo load factor up by 6.7 percentage points to 75% for the month.
AAPA director general Subhas Menon notes: "The emergence of different [Covid-19] variants with higher transmissibility rates has deterred Asian economies from reopening their borders, with extended quarantine requirements further suppressing international travel demand."
He says that while bilateral travel corridors "offer hope for a recovery", they are "susceptible to disruptions", such as with the postponement of the Singapore-Hong Kong travel bubble that reflects the "extremely challenging operating conditions faced by airlines".
Menon adds that Asia's "relatively slow pace of vaccinations" continue to undermine the region's economic recovery, especially its travel and tourism sectors.
"Accelerating vaccination rollouts will be key to paving the way for the restart of the travel industry. However, governments are still facing numerous challenges, including supply constraints and logistical issues," he says.
Menon goes on to say: "As Covid-19 becomes endemic in society and borders progressively reopen, the collaboration of multiple stakeholders such as governments, airlines, airports and service providers, as well as the implementation of harmonised risk-based measures in accordance with ICAO and WHO guidelines, will be needed to restart international air travel in a smart, safe and sustainable way."