Irish-based operator ASL Aviation Holdings is to explore concepts for autonomous aircraft operation, and their initial application to freighter aircraft, under a collaboration with a US specialist.
ASL has disclosed a tie-up with California's Reliable Robotics under which the two sides will seek to implement a remotely-operated aircraft system in a "suitable" airframe.
The project will concentrate at first on large twin-engined turboprop freighters, and will also consider aircraft suitability for remotely-piloted humanitarian operations.
ASL Aviation Holdings director Hugh Flynn says the partnership will evaluate the extent to which remote, and single-pilot, technology can be used to deliver "safe, reliable and cost-effective" cargo – as well as passenger – services.
The company has seven airline operations in Europe, Africa and Asia and its services include express cargo flights for integrators. It uses types including the twin-engined ATR turboprop.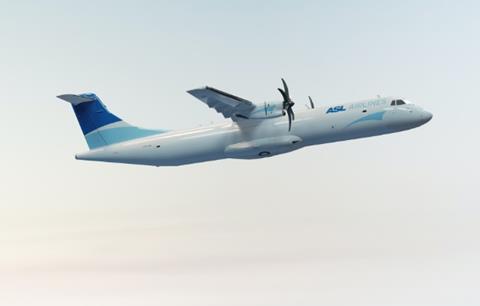 "We are looking at how new technologies will change and improve aviation, and how we can be at the forefront of that change to offer enhanced services to our customers," says Flynn.
The two companies will assess the degree of demand in Europe for remotely-operated aircraft, but Reliable Robotics chief business officer Myles Goeller claims there is already an "urgent" need for automated systems which will enhance safety and increase aircraft asset utilisation.
"ASL shares our commitment to investing in pioneering technology development to serve industry needs and improve how goods and people are transported," says Goeller.