Chinese civil aviation regulators have validated the type certificate of the ATR 42-600, clearing the turboprop for operations in the country.
Clearance by the Civil Aviation Administration of China allows ATR to proceed with fulfilling an order for three aircraft from an undisclosed customer.
ATR describes the 42-600 as an "ideal route opener" for Chinese carriers seeking to establish new connections.
Chief executive Nathalie Tarnaud Laude says the CAAC validation is a "major achievement" and that the ATR 42-600 will "undoubtedly prove to be a game-changer".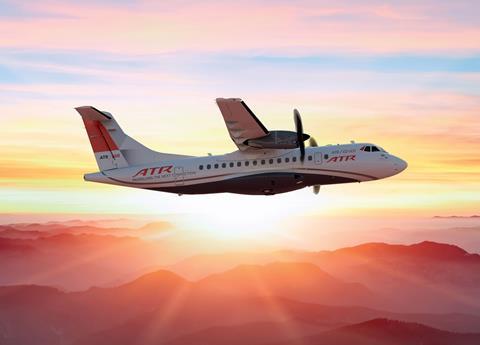 The aircraft is the smaller variant of the -600 family which also includes the ATR 72-600.
It typically seats 48 passengers, has a maximum take-off weight of 18.6t, and a range at maximum passenger load of over 720nm (1,330km).
Turboprops will play a "key role" in creating networks of thin routes out of new airports in China within the next decade or so, says ATR senior vice-president, commercial, Fabrice Vautier.
He adds that the aircraft will "complement" high-speed rail services.
ATR is forecasting demand for 280 new turboprops in China over the next 20 years.