Russian carrier Azimuth's agreement to take Airbus A220s is the first from one of the country's airlines since the twinjet family quietly secured certification from the federal aviation regulator Rosaviatsia.
Airbus obtained certification for both the A220-300 and smaller -100 from Rosaviatsia on 24 December 2020, according to the type certificate issued by the Russian transport ministry.
"The A220 is already certified in Russia," says Airbus Canada, the division which manufactures the A220, confirming its status after Azimuth unveiled plans to lease six during the MAKS 2021 Moscow air show.
Azimuth will introduce the aircraft from 2022. It already has several Sukhoi Superjet 100s on the Russian registry.
Airbus had signalled in 2019 that it was hoping to obtain Russian certification that year.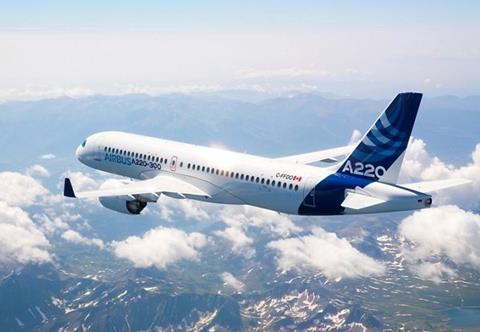 Russian lessor Ilyushin Finance remains a customer for the A220. It has 14 of the -300 on order, a decade since it signed a provisional 2011 deal with Bombardier, when the A220 was still the CSeries.
Ilyushin Finance has yet to take delivery of its first A220.
Russian carrier Red Wings, which is tied to Ilyushin Finance, had been intending to lease six A220s but scrapped the plan two years ago.
State-controlled Russian leasing firm GTLK is an indirect customer for the A220, through its wholly-owned Irish-based subsidiary GTLK Europe. The lessor ordered six A220-300s and has received all of them.