Operators of the UK's regional Doncaster Sheffield airport have embarked on a strategic review to consider its future after admitting that the facility will struggle to achieve profitability.
The airport made a full-year operating loss of £16.2 million ($19.2 million) loss in 2018-19, and a loss of £6.8 million in 2019-20, the last financial results before the onset of the pandemic.
Doncaster Sheffield's loss in 2020-21 reached £8.6 million.
But in its last full-year accounts the operating company had been optimistic, pointing out that it has two strong airline partners – TUI and Wizz Air – with Wizz planning "considerable expansion" in Europe, following large aircraft orders.
Maintaining and developing high service levels would stand the airport "in good stead", the directors believed.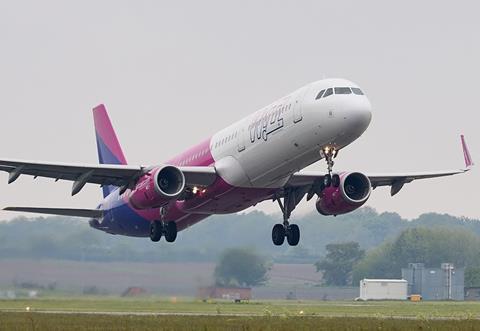 But the airport has suffered a setback after Wizz Air opted to stop basing aircraft at Doncaster Sheffield, and the board says "lengthy deliberations" have led to the conclusion that aviation activity "may no longer be commercially viable".
Investor Peel Group, which owns the airport, commissioned an evaluation to examine the board's findings. The airport operator says this evaluation "concurs" with the conclusions.
"Actions by Wizz to sacrifice its base at Doncaster to shore up its business opportunities at other bases in the [southern UK] are a significant blow for the airport," says Peel Group's airports division chair Robert Hough.
Despite substantial investment in the airport, which opened in 2005, the number of passengers using the facility has "never achieved the critical mass required to become profitable", says the operator.
Wizz Air's operational reduction will leave only TUI as the base carrier, potentially worsening the airport's financial position.
"Aviation activity may no longer be the use for the site which delivers the maximum economic and environmental benefit to the region," the airport operator states.
It will carry out a consultation with stakeholders – in co-operation with Peel Group, which has business interests in other sectors – to assess the future of the airport, and explore whether alternative activities might offer stronger economic advantages.