Singapore-based lessor BOC Aviation has cancelled an order for 30 Boeing 737 Max jets, and intends to defer delivery of others.
It has not disclosed the extent of the deferral nor the number of jets involved.
But BOC Aviation says it has signed commitments with customers for all the Max aircraft due for delivery before 2023.
The lessor had 87 Max family aircraft on order, according to Boeing's records.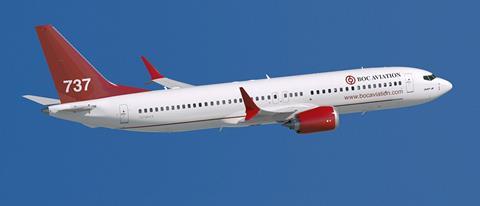 BOC Aviation signed for 50 Max 8s in 2014 and a further 11 the following year. It then picked up a further 15 during 2017 and ordered 11 more in 2018.
The company says it was due to receive 23 aircraft last year but the grounding of the Max delayed the delivery schedule.
Boeing subsequently advised the lessor of the likely schedule over the course of 2020-23.
With the 737 Max still grounded, BOC Aviation stated earlier this year that it expected a "material number" of the jets due this year to be delayed or deferred.
In May the leasing company agreed a sale-and-leaseback of 10 Max 8s with US budget carrier Southwest Airlines.