Middle Eastern operators will take delivery of 3,000 new aircraft over the next two decades, with a strong widebody presence, Boeing estimates in its latest forecast for the region.
Ahead of the Dubai air show in November, the airframer states that these deliveries will include 1,320 widebody types as well as 1,570 single-aisle aircraft.
They will be complemented by 70 freighters and 40 regional jets.
Boeing estimates that the Middle East region's fleet will increase by more than 2,000 aircraft – rising from the current figure of 1,500 to more than 3,500 by 2040.
The single-aisle and widebody sectors will more than double their fleets – to 1,750 and 1,570 aircraft respectively – while the number of freighters will rise from 80 to 150.
Two-thirds of the overall deliveries will support expansion, with the remainder for replacement.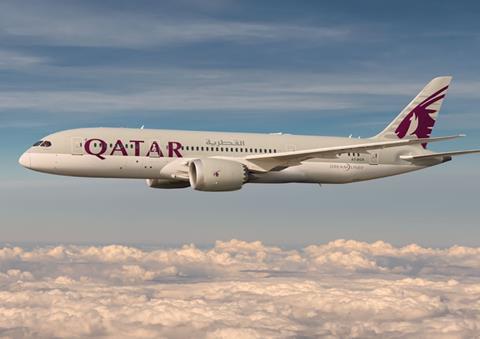 Boeing's backlog data lists over 500 aircraft yet to be delivered to Middle Eastern customers, led by 777X and 787 orders to Emirates, Qatar Airways and Etihad Airways, plus 737 Max jets for Flydubai.
Among other customers for outstanding orders are Gulf Air and Oman Air, plus lessors ALAFCO and Dubai Aerospace Enterprise.
Middle Eastern carriers will take delivery of a greater proportion of widebodies, in comparison with the current fleet, than any other region, according to Boeing's commercial market outlook.
Boeing puts the annual passenger traffic and fleet growth for the region's airlines at 4.1%.
"The region has been a leader in restoring confident passenger travel through multi-faceted initiatives that aid international travel recovery," says Middle East commercial marketing managing director Randy Heisey.
Boeing adds that air freight "represents an ongoing areas of opportunity", with Middle Eastern operators having recorded a near-20% rise in cargo traffic since 2020.
Middle Eastern carriers will need to recruit 54,000 pilots, plus 91,000 cabin crew members, as well as 51,000 technicians over the next two decades.
Boeing values the Middle Eastern jet requirement at $700 billion with a similar figure for the services market over the 20-year period.