China Development Bank's Irish leasing subsidiary CDB Aviation has ordered freighter conversion of a pair of Airbus A330-300s for operation in early 2022.
The two aircraft will undergo cargo conversion at the Dresden-based EFW facility next year.
CDB Aviation says the agreement to take the aircraft marks its "first entry" into the freighter-conversion market.
The lessor has 33 A330s in its fleet which comprises a total of 228 aircraft.
"We are seeing an increasing interest from our customers for medium-sized freighters, as they look to take advantage of record-high freighter utilisation, rapidly growing e-commerce demand, and higher cargo yields," says chief executive Patrick Hannigan.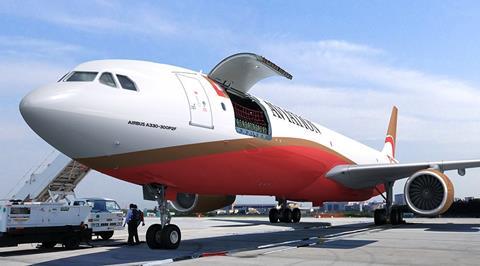 CDB Aviation says the passenger-to-freighter conversion of the A330s will provide a modern successor to the A300 freighter and older Boeing 767s.
"[This aircraft] will bring next generation technology and efficiency to this segment," says the lessor.
"With growing express cargo demand and declining cargo densities, [it will offer] more volumetric space than older freighters in this category, in line with what cargo operators and freight forwarders are seeking."
Hannigan adds that the aircraft is a "natural evolution" from its A330 portfolio and will "seamlessly slot" into the fleets of operators which already use other Airbus family jets.