The timeline for Comac's C919 narrowbody programme to enter commercial service has once again slipped, though the airframer remains optimistic of getting the type certified.
Comac had set a target for type certification and delivery to launch customer China Eastern Airlines by end-2021.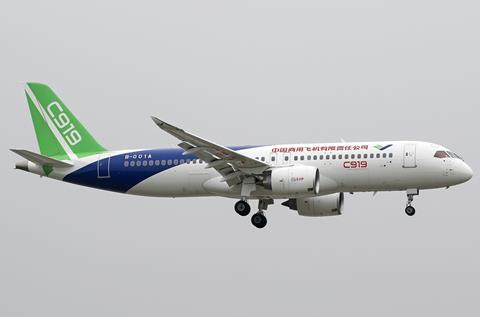 However, a 2 January statement from Comac stated that its fleet of six test aircraft were still "undergoing test flights in several locations in the country".
It offered little explanation as to why the programme was delayed yet again, though it blamed the "dual impact" of the coronavirus pandemic and "external environment", which it says posed an "unprecedented test" for the company.
A 27 September report from Reuters, citing unnamed sources, says the C919 programme — touted to be a homegrown competitor to Airbus' A320 family and Boeing's 737 programme — faces the likelihood of missing "certification and production targets", amid stricter US export rules.
The C919 is highly dependent on Western technologies, including its two CFM International Leap-1C turbofans.
Meanwhile, China's strict zero-infection strategy impacted testing schedules, with at least one flight test location affected because of restrictions stemming from the outbreak, says Comac.
Separately, a Chinese news outlet has reported that Comac was due to deliver its ARJ21 regional jet to its first international customer.
Chinese news site yicai.com in late December reported that Indonesian carrier TransNusa will become the first international operator of the regional jet.
In January 2021, TransNusa placed an order for 30 ARJ21s through lessor China Aircraft Leasing, which holds a significant shareholding in the airline.
It was reported then that the aircraft will be delivered "in stages" up to 2026.
TransNusa and CALC have yet to respond to FlightGlobal's requests for comment.