European and Chinese civil aviation regulators have updated a bilateral agreement on Airbus production at Tianjin to account for the extension of aircraft completion activities to the A350.
Airbus has a single production organisation approval granted by the European Union Aviation Safety Agency, and this covers not only A320-family assembly at Tianjin but also the facility's A330 completion and delivery centre.
EASA has oversight of the production and completion, supported by the Civil Aviation Administration of China through a co-operation formalised by a working arrangement.
But EASA says this arrangement "does not take into account" the planned extension of the activity scope to A350 completion and delivery.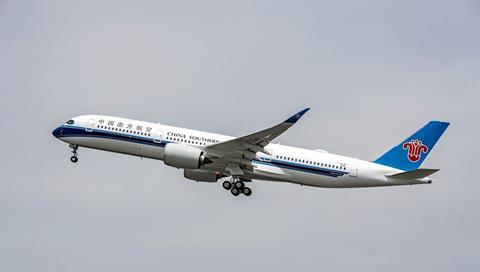 China's three largest airlines – Air China, China Southern and China Eastern – plus Sichuan Airlines are all A350 customers.
The updated working arrangement, signed in March, covers several aspects of the Tianjin operation.
As well as oversight of Airbus production, it includes the issuing of export certificates and permits to fly for the A319, A320, A330 and A350, and the flying of production aircraft between Airbus's Toulouse and Hamburg facilities and that in Tianjin.
It also covers the CAAC's issuing of temporary registration certificates, temporary radio licences, and other permits for flight tests and delivery to customers, as well as any pre-delivery maintenance.