Middle Eastern carrier Emirates has carried out blood tests on passengers to assess whether they are affected by coronavirus, ahead of a service to Tunisia.
The airline is claiming that it is the first operator to perform rapid tests for the disease on passengers prior to departure.
Emirates has not specified the flight involved in the 15 April process but a Boeing 777-300ER operated its EK747 service on the Dubai-Tunis route on this date.
The airline says the "quick" blood test – carried out at the check-in zone of Terminal 3 in co-operation with Dubai Health Authority – returns results inside 10min.
Emirates chief operating officer Adel Al Redha says the "innovative" testing programme went "smoothly". The airline has not indicated whether any passengers tested positive for coronavirus.
"We are working on plans to scale up testing capabilities in the future and extend it to other flights," says Al Redha.
"This will enable us to conduct on-site tests and provide immediate confirmation for Emirates passengers travelling to countries that require Covid-19 test certificates."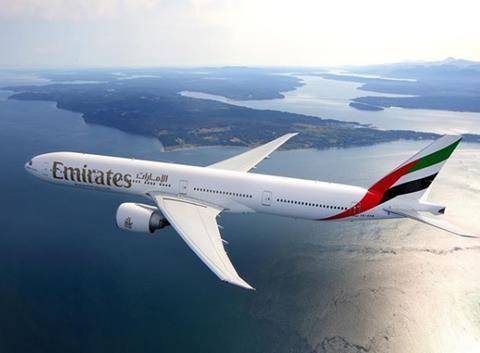 Emirates has taken several steps to reduce the risk of contagion, including installation of protective barriers at check-in, mandatory use of personal protective equipment for employees, and modification of in-flight services – withdrawing print reading material and repackaging catering.
Passengers are being required to wear their own face-mask at the airport and on board, while cabin baggage is not being accepted. The airline is, however, allowing a limited number of carry-on items such as a laptop computer or supplies for infants.
All Emirates aircraft will also continue to undergo enhanced cleaning and disinfection processes in Dubai after each trip.
"We have been proactively working with various governmental organisations and the private health sector," says Dubai Health Authority director-general Humaid Al Qutami. "We have implemented all necessary measures from public health protection to provision of high-quality health services in line with the latest international guidelines."